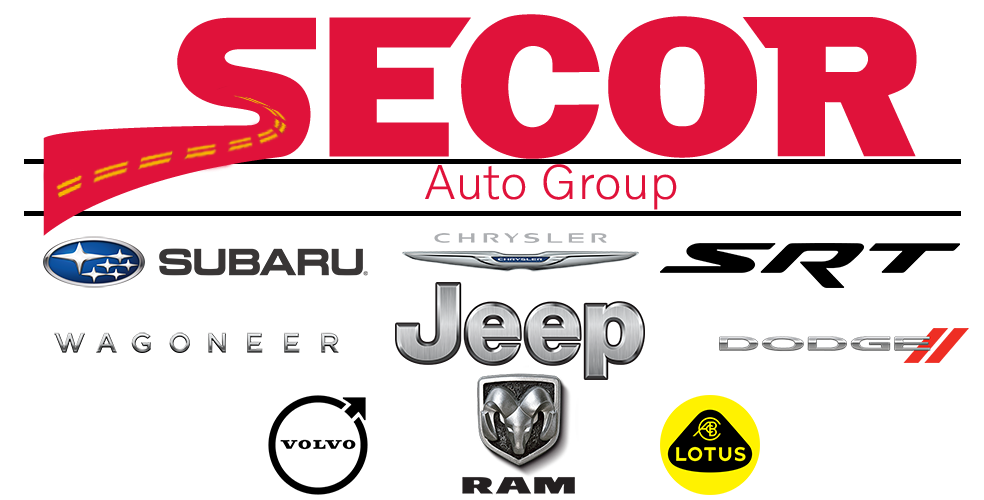 Welcome to the maritime city of New London and SECORS AUTO CENTER, INC, 545-575 Broad Street, New London, CT.  Secor's has several Brand locations on the strip - Secor Volvo Cars ay 575 Broad St, Secor Lotus at 545 Broad Street, Secor Subaru at 501 Broad St, Secor Subaru Service at 18 1st Ave. and Secor Chrysler Dodge Jeep RAM at 409 Broad St, New London. 
Secor's been known as the "go to" new and used car dealership serving our Navy's Military as well as EB, Pfizer and more local business, for decades.  Owner principal, Charlie Secor, Jr., founded Secor's Auto in 1971 on a small lot where he displayed and serviced quality, low mileage used cars.  Looking for a used car from a dealer they could trust, people came to Secor's in New London from Colchester, Old Saybrook, Norwich, and other points in Connecticut and Rhode Island.
  When military service called the young Charlie Secor to serve his country, he joined the Army and completed basic training and was stationed in Washington, D.C., at Walter Reed hospital.  At that point, he turned the responsibility of the day to day running of the dealership over to Charlie Secor, Sr. and Virginia Secor, his parents.  Charlie Jr. frequently returned whenever he had military leave, so the path between D.C. and New London was well worn.
In the early 1980s Charlie became the new and used car dealer of New London for SAAB imports, his first import franchise, which was perfectly suited for the New England landscape and weather conditions.  He met his future wife, Julia, when she entered the dealership in search of a red SAAB to transport her to her new job, and struck up a conversation with Charlie, thinking him the owner's son. Married in 1989, Charlie pursued further development of their business by adding Volvo to the line, another distinctive Swedish franchise, in 1992. Expanding our import market, Secor Auto Center added Secor Subaru in 1995. We also added Secor Chrysler Dodge Jeep Ram, in 2012, which was acquired from Linder Dodge. Shortly thereafter, Charlie ventured into High Performance Sports vehicles and added Secor Lotus in 2014. Lotus ads a lot of smiles and fun to the dealer group and proudly resides at 545 Broad Street, New London, CT.  

At Secor Volvo the goal is to provide you with the customer experience of a lifetime!  While Volvo technology has become more complex to give you the drive, safety, and features you want, the buying and service experiences should be anything but complicated!  We offer one-stop shopping - from test drive, to Volvo education, delivery, and service down the road.  
DISCOVER THE JOYS OF A NEW VOLVO FROM OUR NEW LONDON, CT DEALERSHIP.

Expanding our import market, Secor Auto Center added Secor Subaru in 1995.  The new and Pre-Owned Subaru Superstore in New London, serves Westerly RI, 
Norwich CT
 and East Lyme selling new and used cars. Our auto technicians perform a detailed inspection on every used car, truck, SUV and van at our Connecticut Subaru dealership, so you can feel confident you're buying a quality vehicle.  While Secor Subaru is the premier location to buy certified used Subarus, we also stock used cars made by many of the world's top automakers.

In 2012 SECOR AUTO CENTER moved to incorporate distinguished American brands to their offerings opening SECOR Chrysler, Jeep, Dodge and Ram in their newly remodeled showroom on Broad St., down the road from Secor Volvo and Secor Subaru, heading toward the center of historic New London. We invite drivers to stop by our showroom to browse our vast inventory of 
new Chrysler, Dodge, Jeep and RAM models
 and arrange for a test drive.  Our current inventory features the best-selling names and 
Secor's
 offers what you want such as the Chrysler 200, Town & Country, Dodge Charger, Dart, Jeep Grand Cherokee, Wrangler and RAM 1500!  Conveniently located off I-95 and near I-395, main New London thoroughfares, and historic downtown New London, 
Secor
 is a family name of businesspeople and U.S. veterans trusted for decades in the New London community. 

Secor Lotus redefines the rule book, never standing still.  Through Lotus' 75+ year history, innovation of the road and track has been central to Lotus's success.  At the root of its DNA is Colin Chapman's obsession with lightweight, and so it continue:  "Simplify, then add lightness,"  was his philosophy before minimalism became a high street term.  "Adding power makes you faster on the straights, subtracting weight makes you faster everywhere."  The most traditional Lotus solution is the one with the least parts effectively deployed.  These days, Lotus's expertise in lightweight architecture has enabled it to be a leader in green vehicle technology. Geely's CMA Platform makes for outstanding engineering. This is critical for the times we live in, along with performance and driving pleasure. We are accepting pre-orders for Lotus Emira, Eletre and Evija Cars at this time. Join us during one of our Lotus test drive events and we know that you'll have a smile on your face during the drive, just as we will. We are not just a Lotus Dealer, we are enthusiasts! 
We Provide High-Quality New and Used Cars and Customer Service.  SECORS AUTO CENTER, INC serves New London, Stonington, Mystic, Old Lyme, Lyme, Old Saybrook, Madison, Norwich, New Haven, Colchester, and beyond!  We want to make the process of buying a great New or Used vehicle easy, exciting, and fun.  That's why we strive to provide a low-pressure environment that invites customers to explore at a pace that's right for them.  We're here to support you in the buying process, answer all your questions and ensure you have the facts you need to make an educated decision.  We have a skilled and knowledgeable sales team with many years of experience satisfying our customers' needs. 
Our Product Specialists (sales staff) are dedicated to helping you find the vehicle that best meets YOUR desires and needs!  Our staff at Secor Auto Center is extremely knowledgeable and devoted to serving our customers.  We pride ourselves on our staff having careers not just jobs in helping customers achieve their dreams and satisfy their needs. 
Here at Secor Auto Center we consider you a friend of the Secor family because we are committed to doing business with integrity and respect.  You can expect to be treated like family and professionally whether you are purchasing or having your vehicle serviced or detailed with us.  Come down to our dealership and see the Secor difference!